On January 4, California felt two earthquakes. The first was a conventional and thankfully weak earthquake in Berkeley:
The Did You Feel It? survey form for the Berkeley, CA M4.4 EQ is back up and running: https://t.co/jY2poBayEX Please tell us what you felt. pic.twitter.com/OVb8r4p22q

— USGS (@USGS) January 4, 2018
The second was a political earthquake, emanating from across the bay in San Francisco:
I'm introducing an aggressive housing legislative package: 1) require denser/taller zoning near public transit, 2) require cities' housing goals be based on actual future growth & make up for past deficits, & 3) make it easier to build farmworker housing. https://t.co/YLQ9djH5pN

— Senator Scott Wiener (@Scott_Wiener) January 4, 2018
So, here are six things to like about the transit-oriented development bill that's making waves in state politics:
1 It acknowledges the state has an interest in land use
Many decisions are better made by cities than states. Where will the next branch library go? Should this park have a splash pad or a lawn? But some problems are too big for one city alone, like intercity transportation. If Austin and San Antonio decide to be connected by a train, Buda, Kyle, San Marcos, or New Braunfels should have input (as the train would go through these cities), but they shouldn't be given a flat veto. It is up to the state government to help manage this process so that local interests in one city don't hurt local interests everywhere else.
In California and some other states, housing and land use have become problems with statewide and national implications. Housing prices aren't just high in San Francisco or Los Angeles or even Berkeley; people unable to find housing in those cities are spilling over to suburbs and exurbs all across the state. Whole companies are looking to other states to set up offices because their workers can't afford California rents. The greenhouse gases from long commutes affect every person on the planet. When a problem is widespread, the solution needs to be widespread too; cities rules by local interests just doesn't cut it.
2 It creates fair and impartial rules
Laws made at the local level can take into account local context better than statewide rules can be. But laws made at the state level can better take into account the statewide context. In a drought, we need fair rules so that everybody does their part to conserve water and everybody has access to the water they need. In a statewide housing drought, we need fair rules so that everybody does their part to build housing.
3 It forges a link between transit and density
In the sphere of YIMBY and placemaking, the problem in California is a very YIMBYish problem: there aren't enough homes to go around for all the people who want to live in California's cities. But the solution that Wiener proposes isn't just focused on getting people into homes anywhere. By proposing rules for allowing more homes near transit, it creates the chance for cities to use this as an opportunity to make great places for the future, where high-capacity transportation solutions are matched with high-capacity housing solutions.
4 It acknowledges how parking rules can hurt housing
One type of land use rule that's particularly pernicious is the minimum parking regulation. These rules not only incentivize car use by forcing everybody to pay the price of car storage whether they drive or not, they also cut into the budget (both financially and physically) of new housing. This legislation will stop cities from using these pernicious rules near transit stops and opens the possibility for people to find new ways to live cheaper while using less parking.
5 It helps bridge the gap between people and jobs
The problems of California's cities aren't their problems alone. Vast swathes of the state are home to unique industries, from Silicon Valley's tech economy to Hollywood's movie industry. Sure, tech jobs exists outside Silicon Valley and movies are filmed all over the world. But place has, if anything, grown more important over the last decades, not less. Young workers looking to break into an industry would do well to show up where the jobs are, and new companies looking to start up would do well to show up where the workers are. Today, though, many people are shut out of these engines of prosperity because they can't afford to live in Palo Alto, San Francisco, or Los Angeles while they lean the trade. Who knows what great technology or film talent we may cherish tomorrow if only we make room for them today?
6 It might just save humanity
With the United States federal government oriented away from action against climate change, individual states badly need to step up their game. While trying not to overstate the importance of this bill, the fate of the entire human race might depends on our ability to transition the United States and our high-emission society into one in which we can get around more efficiently.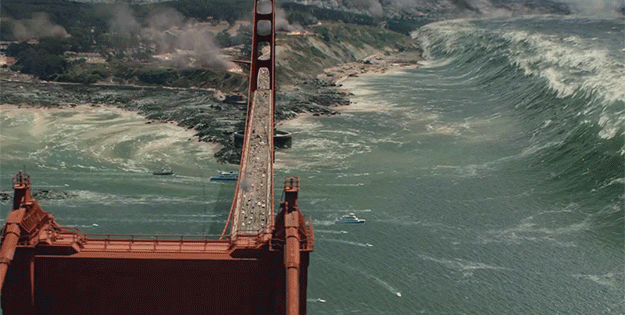 So congratulations to Senator Scott Wiener! You brought a proposal that deals with the scale of the problems your state and this country are experiencing, and you may have changed the conversation on housing for good.
Words by Dan Keshet. Gif selection by Susan Somers.